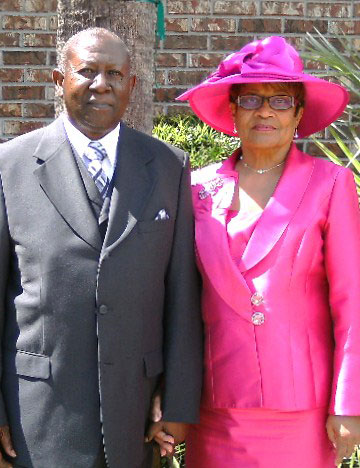 About Our Pastor and First Lady
Rev. James C. Edwards is the pastor of Zion Rock Missionary Baptist Church. He is an anointed man of God, filled with the Holy Spirit. Zion Rock has moved to higher heights in its spiritual growth through his anointed preaching and teaching. His example of being a faithful servant has filled the congregation and moved it to reflect its faith by its work of love towards the lost, broken, and hopeless.
Rev. Edwards is the third child of eight born to the late Tim and Annie Bell Edwards of Palatka, Florida. He attended the public schools in Palatka and graduated from Central Academy High School and attended Florida Memorial College. He was called to the ministry while in Florida and received his local preacher's license from Shiloh Baptist Church in Palatka under the leadership of Rev. J. A. Wright.
He moved to Chicago, Illinois and had a successful career in law enforcement. He was a member of Mt. Zion Baptist Church, Evanston, Illinois, and was ordained under the pastorate of the late Dr. J. Frederick Norwood and served as Assistant Pastor at Mt. Zion. Rev. Edwards furthered his education at Northeastern Illinois University and the Moody Bible Institute.
He was called to pastor Zion Rock Missionary Baptist Church, Brunswick, Georgia in 1993. The Church has moved forward and upward each year! His statement to everyone is "Follow me as I follow Christ."
Pastor Edwards is married to Rebecca Blackwell Edwards and they are blessed with five children and five grandchildren.